Chicken Cyclekit
BASSO VENTA RIM Campagnolo Centaur
To those who claim that quality construction and long-lasting performance are concepts available to only a select few, we have just one word: Venta. Handmade by Basso with the same extreme attention to quality and detail used to make the most premium frames in the range, the Venta represents a fantastic value proposition. Made to race, made to last, the Venta is built to give lasting performance for years to come.
A totally hidden fixing solution that is invisible on the frame, intertwining technological and aesthetic innovation.
The result is a lightweight, invisible and strong integrated system with three screws, which has been further implemented through the vulcanization of the steel plank. This Basso solution gives the 3B system an anti-vibration function, which improves the riding experience by elevating comfort on uneven and bumpy surfaces.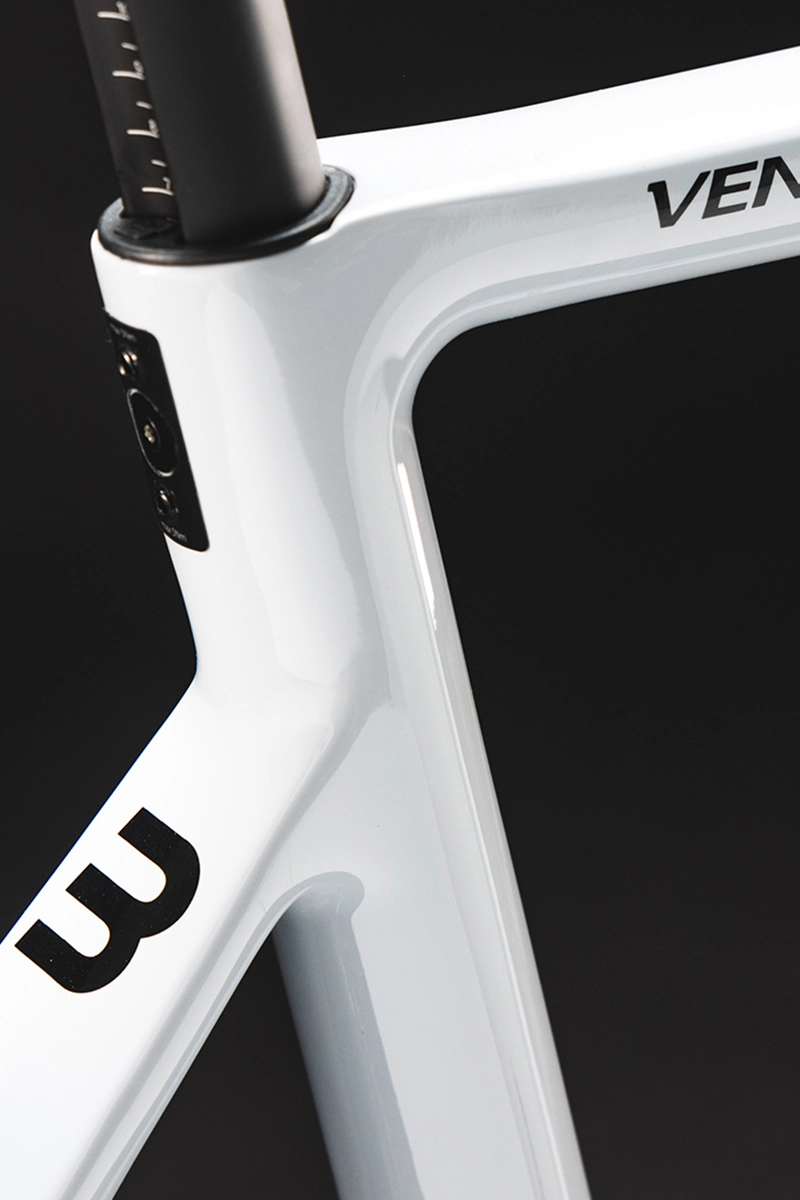 Geometry
Every good bike fit starts with choosing the correct frame size for you. This will allow you to benefit best of the bike's performance and comfort for an efficient riding position.
| | 45 | 48 | 51 | 53 | 56 | 58 | 61 |
| --- | --- | --- | --- | --- | --- | --- | --- |
| SEAT TUBE (A1) | 450 mm | 480 mm | 510 mm | 530 mm | 560 mm | 580 mm | 610 mm |
| TOP TUBE (B) | 505 mm | 480 mm | 525 mm | 545 mm | 560 mm | 575 mm | 590 mm |
| REACH (R) | 374 mm | 374 mm | 377 mm | 383 mm | 385 mm | 388 mm | 389 mm |
| STACK (S) | 527 mm | 527 mm | 552 mm | 564 mm | 591 mm | 614 mm | 638 mm |
| SEAT TUBE ANGLE (C) | 76° | 75° | 75° | 74° | 73,5° | 73° | 72,5° |
| STEERING TUBE ANGLE (D) | 71,8° | 71,8° | 72° | 72,3° | 73,5° | 73,5° | 74° |
| CHAIN-STAY LENGTH (E) | 400 mm | 400 mm | 400 mm | 400 mm | 402 mm | 406 mm | 406 mm |
| BB TO FORK LENGTH (F) | 576 mm | 576 mm | 585 mm | 592 mm | 590 mm | 599 mm | 602 mm |
| HEAD TUBE (H) | 125 mm | 125 mm | 150 mm | 162 mm | 180 mm | 204 mm | 228 mm |
| HANDLEBAR WIDTH OUT/OUT (M) | 420 mm | 440 mm | 440 mm | 440 mm | 440 mm | 440 mm | 460 mm |
| STEM LENGTH (N) | 90 mm | 100 mm | 100 mm | 110 mm | 110 mm | 120 mm | 130 mm |
| CRANK LENGTH (O) | 170 mm | 170 mm | 172,5 mm | 172,5 mm | 172,5 mm | 172,5 mm | 175 mm |