Chicken Cyclekit
BASSO ASTRA Sram Rival 2×12 ETAP AXS
Can a racing bicycle be versatile and performing at the same time? Can it be the expression of a lifestyle, capable of enhancing it in any situation?
Astra is developed around people's lives to make it suitable for various occasions, even very different from each other.
Its features are designed with a very specific purpose: to amplify the lifestyle of those who get on the saddle, whatever their definition of cyclist.
Versatility and completeness
Astra maintains its vocation for road cycling, but the attention to detail has made it less nervous and more comfortable. Light but without pushing the carbon of the frame to the extreme (which weighs about 980 g), it adopts Basso's high-profile technological solutions.
The 35 mm tire clearance allows you to mount wider tires and venture beyond the tarmac on light dirt roads. The integrated cables with Paradigma technology and the All Road handlebar by Microtech increase safety and comfort, while maintaining clean aesthetics.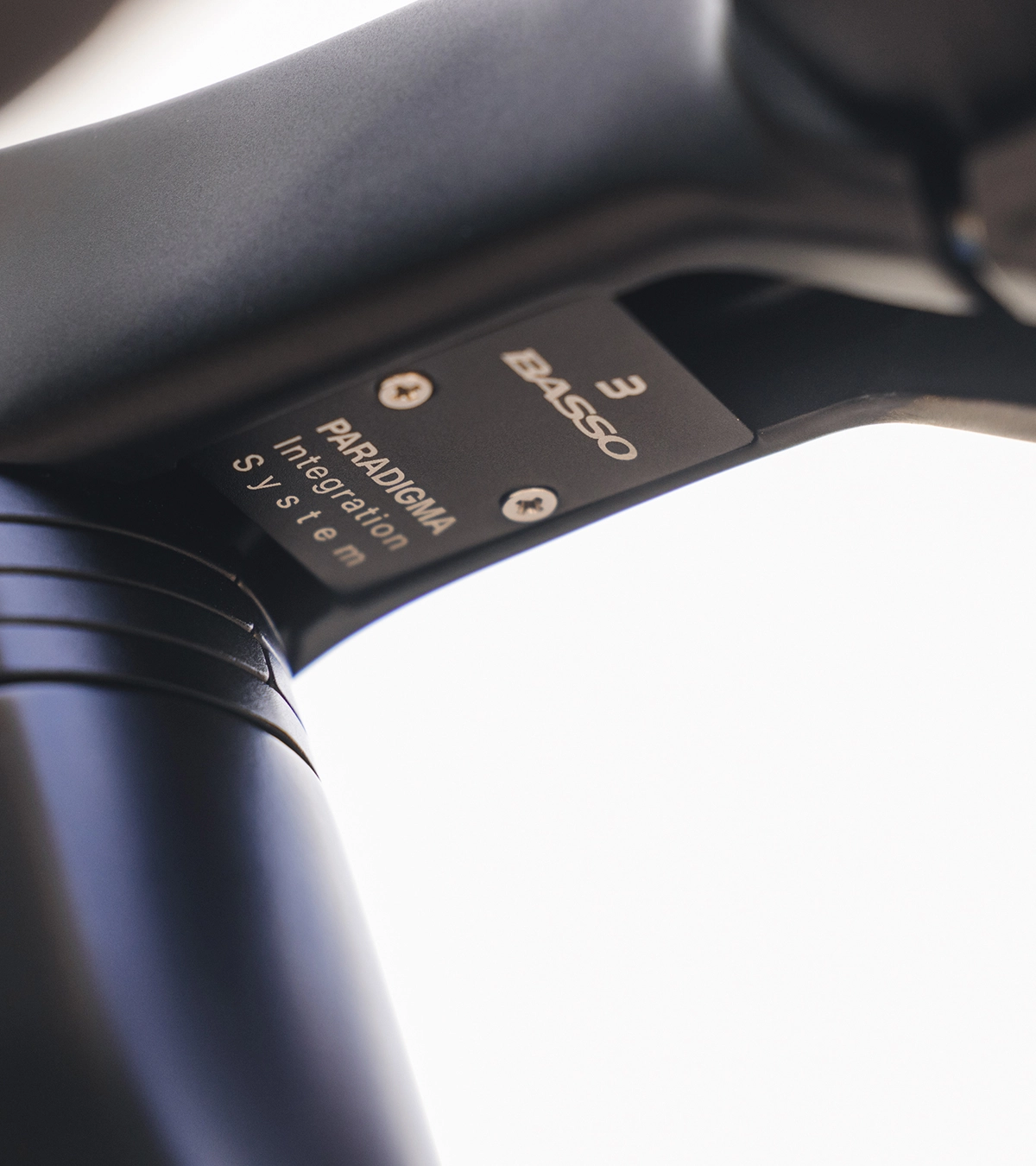 Astra's geometry is the most Basso of all, derived from the steel models. A platform improved year after year, preserving the racing DNA but making it transversal and able to adapt to those who are not an athlete who ride bikes every day. An evergreen consistent with its past, but capable of perfecting itself from model to model becoming more versatile.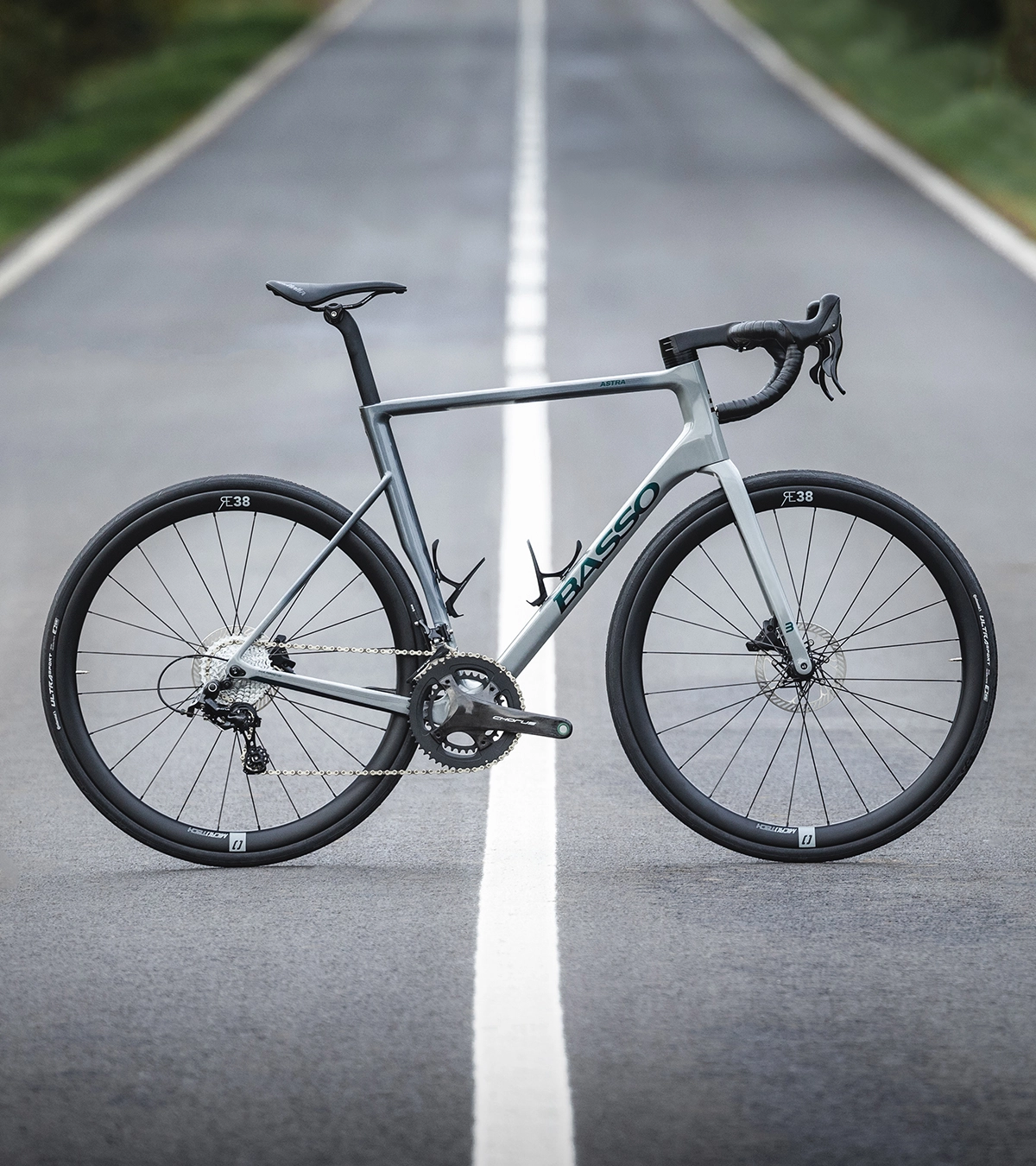 Geometry
Every good bike fit starts with choosing the correct frame size for you. This will allow you to benefit best of the bike's performance and comfort for an efficient riding position.
| | 45 | 48 | 51 | 53 | 56 | 58 | 61 |
| --- | --- | --- | --- | --- | --- | --- | --- |
| SEAT TUBE (A1) | 450 mm | 480 mm | 510 mm | 530 mm | 560 mm | 580 mm | 610 mm |
| TOP TUBE (B) | 505 mm | 515 mm | 525 mm | 545 mm | 560 mm | 575 mm | 590 mm |
| REACH (R) | 371,1 mm | 371,1 mm | 374,5 mm | 380,4 mm | 382,1 mm | 384,4 mm | 385,5 mm |
| STACK (S) | 538,9 mm | 538,9 mm | 563,4 mm | 575,9 mm | 602,4 mm | 625,4 mm | 650,4 mm |
| SEAT TUBE ANGLE (C) | 76° | 75° | 75° | 74° | 73,5° | 73° | 72,5° |
| STEERING TUBE ANGLE (D) | 71,8° | 71,8° | 72° | 72,3° | 73,5° | 73,5° | 74° |
| CHAIN-STAY LENGTH (E) | 404 mm | 404 mm | 404 mm | 404 mm | 406 mm | 410 mm | 410 mm |
| BB TO FORK LENGTH (F) | 576,9 mm | 576,9 mm | 586,4 mm | 593,2 mm | 590 mm | 599 mm | 602 mm |
| HEAD TUBE (H) | 125 mm | 125 mm | 150 mm | 162 mm | 180 mm | 204 mm | 228 mm |
| HANDLEBAR WIDTH C/C (M) | 400 mm | 400 mm | 420 mm | 420 mm | 420 mm | 420 mm | 440 mm |
| STEM LENGTH (N) | 90 mm | 90 mm | 100 mm | 110 mm | 110 mm | 120 mm | 120 mm |